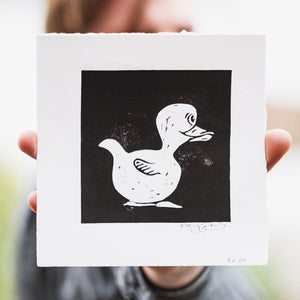 He's not a flawless ducky, a bit rough around edges- such is life! Embrace the imperfect and own it! 
Created from a sketch, which was transferred onto a lino block and carved by hand. Pressed onto Fabriano cotton blend paper and custom cut with deckled edging. Each print is individual with slight variations so no two prints are the same! Limited edition of 36 hand pressed prints. 

Unframed: 170mm (height) x 170mm (width) 
                    6.7" x 6.7"